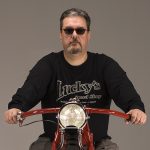 After building numerous NHRA Best Appearing, Best Engineered, National and Divisional event winning race cars throughout the 80's and 90's, my interest in the history, design, processes and craftsmanship of vintage racing motorcycles, race cars and hot rods from the early 1900's to the 1960's has reached an all-time high.
Inspired like never before, my direction now is to preserve a piece of that era with new builds with that distinct style and finish that are produced in part with some of today's modern technology but with a flavor of the past. From this, a unique line of parts and apparel with that same vintage feel has transpired, all of which are available in our Store.
We start by designing an attractive, functional and affordable custom motorcycle or hot rod with the help of our computer aided design software before a single piece of metal is cut, formed or fabricated. Once a design has been finalized, CNC machining centers, water jet and laser cutting are used to produce components that are exact duplicates of our computer designed assemblies.
Next, we painstakingly duplicate finishes, function and design elements influenced by motorcycles, aircraft and automobiles of that specific era which help contribute to that correct period feel. There's still plenty of hand fabrication and craftsmanship required which enables us to produce exceptional hand-crafted, meticulously detailed, custom vintage motorcycles and hot rods that are brand new but often are mistaken for 50-100 year old restoration projects.
[ssba]